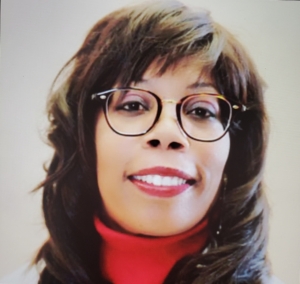 Dr Gaither is a double board-certified physician in Ob/Gyn and Maternal Fetal Medicine and holds a Masters Degree in Public Health and an MS/MBA in Healthcare Policy and Research/Healthcare Leadership. A perinatal consultant and womens' health expert, Gaither's expertise is grounded in both research and her professional experience in caring for women with multiple medical/surgical/fetal conditions in pregnancy. In her current role, Dr Gaither serves as the Director of Perinatal Services/Director of Maternal Fetal Medicine for NYC Health+ Hospitals/Lincoln in the Bronx. Dr Gaither, additionally is an Associate Professor of Clinical Obstetrics and Gynecology with Cornell Weill Medicine.
A Harlem native, Gaither's mission as a medical professional is to offer exemplary prenatal care to all women, regardless of circumstance. Dr Gaither regularly lends her commentary and expertise on issues pertaining to womens' health, pregnancy, and environmental/ population health policy, to leading national consumer health and lifestyle outlets across print, radio, TV, film and on-line, including CNN, FOX NEWS, Prevention Magazine, Parents Magazine, Womens Health Magazine, Doctor Radio,  NBC TV, NY 1, and FORBES Health . With her foray into social media, Dr Gaithers' combined perspective as a maternal child specialist and public health proponent has allowed her to reach millions via her Twitter feed– @KeciaGaitherMD and her website: www.keciagaither.com. Dr Gaither has co-authored "The Confident Woman", a must read book for women who desire increased confidence, self-esteem and empowerment.
She is a reviewer for, and has been published by, multiple scientific journals. She additionally serves as a reviewer for WebMD, and as a requested contributor to The Huffington Post, Thrive Global, and US News and World Report. She currently lends her expertise to the March of Dimes as an editorial consultant for health equity content. Dr Gaither was an appointee of NYC Mayor Bloomberg to the HIV Planning Council of NY. Dr Gaither is on the medical advisory board of NATERA, PWN Health, and Organic and Natural Association. Dr Gaither additionally serves as a liaison to The Association of Black Cardiologists, addressing cardiac disease in pregnancy.
Dr Gaither received her BA in Biology from Barnard College, and her MD from SUNY Health Science Center in Syracuse. She completed her Ob/Gyn residency at Riverside Regional Medical Center, a subsidiary of The Medical College of Virginia and completed her Maternal Fetal Medicine Fellowship at The University of Medicine and Dentistry-Rutgers in Newark NJ. Dr Gaither earned her MPH in Health Policy and Management from Columbia University and a dual MS/MBA from Cornell University SC Johnson Business School, Healthcare Policy and Research/Healthcare Leadership.
When not caring for her patients or conducting research, Dr Gaither enjoys time spent with her family
and traveling.
Professional Organizations & Participation
American Congress of Obstetricians and Gynecologists
Society for Maternal Fetal Medicine
American Institute of Ultrasound in Medicine –Senior Member
Association of Professors of Gynecology and Obstetrics
National Association of Health Services Executives
New York Obstetrical Society
New York Perinatal Society
New York State Perinatal Association
Awards & Honors
2007, 2010, 2012, 2013, 2014, and 2015 – America's Top Obstetrician and Gynecologist – Consumer Research Council
2010 – Cambridge Who's Who
2005 – CREOG National Faculty Award in Obstetrics and Gynecology
1997 – Second Prize Winner, New Jersey Maternal Fetal Medicine Society Oral Presentation: "Does Maternal Diabetes Modulate Expression of the Human Placental Glut-1 Glucose Transporter?"
1995 – First Prize Winner, District IV Junior Fellow, Annual Fall Meeting, Charleston, SC. Poster Presentation: "Dopplers as a Routine Screening Test"
1986 – 1988 – New York Regents Health Professions Award
1981 – 1985 – New York Regents Scholarship Award